When & Where?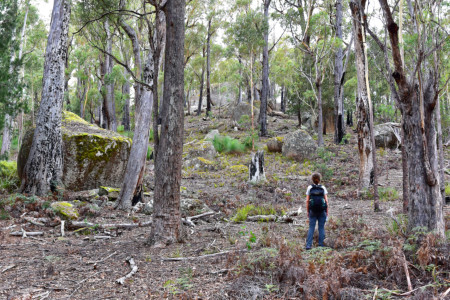 The venue for the 2019 Australasian Rogaining Championships is St Helens, Tasmania. The event will be held on the weekend of 9 – 10 November, 2019.   The map includes the sleepy coastal township of Binalong Bay and the world famous "Bay of Fires" area, a mecca for travellers who love the outdoors.
St Helens is on Tasmania's north east coast approximately 3.5 hours drive from Hobart and 2.5 hours drive from Launceston. Both these cities have domestic airports. St Helens is a fully serviced town with cafes, restaurants, banks, supermarkets etc. The organisers will be providing bus transport from Launceston to cater for the event but why not stay for a longer break and enjoy Tasmania. At this time of year car hire and accommodation can be readily booked in advance. For information on tourist destinations and self drive itineraries visit the Discover Tasmania website.
The Event
The Australasian Champs are a 24 hour event – starting at midday on Saturday 9th. The challenge is to amass as many points as possible by visiting checkpoints of varying value in 24 hours. However your team can always come back to the event centre (Hash House) for a sleep or food before heading out again. Our catering team will be providing soups, hot food and hot drinks to keep your team on the go. In addition to the championship event there will be a 15 hour (out of 23 hours total) non-championship option.
The Map & Course
This fantastic rogaining area has terrain ranging from steep areas with extensive granite outcropping to flatter, more subtle terrain that was historically utilised for tin mining. Teams will have the option of visiting the area's incredible granite coastline.
The course will be set with a demanding navigational standard for the teams covering much of the course, but controls closer to the Hash House will cater for rogainers of all abilities. The 1:25,000 scale map shows fine contour detail and vegetation runnability derived from high-accuracy LIDAR topographic survey. The area is classic granite spur-gully terrain which means some of the navigation will need extra attention!
A little bit of the map is shown here to raise your excitement levels!
The course setting and vetting team (Gary Carroll, Bernard Walker, Peter Tuft and Jeff Dunn) are highly experienced rogainers. The map has been specially prepared using ArcGIS Pro and OCAD 2019 software.
Weather and Climate, St Helens
Moonrise & Moonset

Rise: 15:30
Set: 03:30
Rogaining Rules
The rules for rogaining can be read at the Australian Rogaining Association website. The events will be held strictly in accordance with these rules.